Donald's Testimony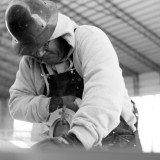 I grew up in South Louisiana in what you would call a very dysfunctional family. My dad was a violent alcoholic who abused me, and my mom. I can remember my uncles giving me alcohol at a very early age just to have a good laugh at seeing me wobble. Mom even told me they put beer in my bottle when I was a baby. I remember smoking my first joint at 10 or 11. I began at an early age to stay out late at night. I didn't have any consequences from doing what I wanted to do.
I remember riding through the neighborhood with my friends, stealing cb radios and bicycles out of yards and selling them or trading them for pot. That was just the beginning. This led me to quitting school in the seventh grade. There were not any consequences from my parents even for that. At 14 years old I took my first shot of heroin and cocaine mix. This led to a horrible addiction for the next five years. I overdosed on cocaine three different times, and the last time they dropped me off at the hospital leaving me for dead. That's when I went into a state rehab for the first time. The one thing that place did for me is that I never did put another needle in my arm. From there I thought I was just a good ole boy smoking pot.
For the next 15 years I was in construction, working for an outfit building shopping malls and hospitals. I thought everything was okay as long as I just smoked pot and drank beer instead of shooting dope in my arms. I even built up a nice little nest egg. I got tired of traveling and settled down in Memphis, Tennessee where I got involved with a motorcycle club. I starting dealing in pot and smuggling it from Texas to Memphis and thought I had it going on. That led to smuggling cocaine, and then smoking it, which is what would lead me to destruction and ruin. I was even running from drug dealers because I was stealing their drugs.
I found myself in a psychiatric ward where the chaplain of the hospital told me that Jesus Christ could set me free. He introduced me to a three-month Christian program in South Mississippi. This is where I learned that I could be set free and it was the first time I gave my life to Jesus. But I never surrendered everything in my life to serve and honor Him, so for the next 13 years my life was like a yoyo. I would say I was serving God but was a rebel inside, wanting only to please myself.
I came to Heartland in November of 1998 and went through the men's recovery program. At that time I truly wanted to serve God, but I still didn't let go of all the things of the world. Heartland is where I met my wife, Debbie; we were married on February 5, 2000. I misled my wife in many ways by not telling her the truth about my life. By me not surrendering and submitting completely to the Lord and the leaders He placed in my life, I continued the roller coaster life.
It was while I was driving a silage truck that God really started convicting me of my deceitful life. I totally surrendered everything to the Lord and came clean with Pastor Charlie and my leaders about every deceitful way I had been while I was here at Heartland. Since then God has blessed me in so many ways. One is the right relationship with my wife. We have an honest and open relationship.
Today I work in construction on the Farm and at the Concrete Plant. Now I am not only able to do what I love, but I am blessed to work with men in the recovery program who deal with some of the same issues. I can minister to them and tell them about what true freedom is, and that's surrendering everything to Jesus Christ and becoming transparent.