Theresa's Testimony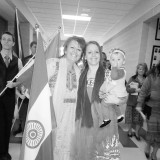 I'm really not sure what happened to me along the the way. I was a good kid, loved my parents and they loved me and all of a sudden at thirteen I thought I knew everything and could do whatever I wanted — and I did.
I started smoking cigarettes, drinking alcohol, smoking pot, sneaking out every night, and stealing my parents' cars. At the age of sixteen I was pregnant, and at seventeen I was married. I was a child having a child and didn't know how to be a wife or a mother because all I cared about was myself and partying.
I got a job in a pharmacy at seventeen and by then I had a pretty big alcohol and cocaine habit. I used coke to get up for work and pharmaceuticals to go to sleep and everything else I could get my hands on in between. I lived like that for years, but because you really can't have a relationship on drugs and due to the many stupid decisions I made I got divorced at twenty-three.
From that point on I lived like there was no tomorrow. I didn't care about anyone or anything. I had no fear at all. I can't even imagine or remember all the times I should have been dead or should have killed others including my two children, Bo and Erika, my family or my friends because of my reckless life. I searched up and down trying to find something to fill the empty hole of depression and loneliness, but until I found Jesus it was hopeless.
I have been at Heartland for four years now and Christ lives in me. I work at the Creamery as a supervisor and really enjoy it. I have been on three mission trips — one to the Philippines, Moldova and India. Who would have ever thought I could be doing something like this?
I've been so blessed. I can see all the great things God is doing in my family. He dwells in my temple and I don't know how to thank Him enough. I don't want to live another day without Him. I love You Lord.